Portable air conditioner sales closed in on around US$ 1 billion in 2018, which are envisaged to witness a sluggish below-3% growth in 2019. According to a new study of Future Market Insights (FMI), more than 80% of the overall sales of portable air conditioner is accounted by residential end users. Commercial use has been estimated to account for a negligible revenue share in the portable air conditioner market.
Mid-sized Portable Air Conditioner Top Selling
Over 5 in 10 portable air conditioner buyers are observed to prefer medium capacity models, i.e. 11,000-15,000 BTUs. FMI's analysis suggests that portable air conditioners within this capacity range will continue to experience modest growth in sales over the coming years. On the other side, low capacity and high capacity models of portable air conditioner will reportedly register sluggish rate in terms of revenue. Compact size is cited as the key demand determinant dictating sales growth of mid-capacity models in market.
More than 3/5th of the overall sales of portable air conditioner is contributed by multi-brand stores, and organized retail stores – i.e. supermarkets & hypermarkets. The revenue share of the former will however expand at a relatively higher pace, according to the report.
Request a Complete TOC of this Report with figures:
https://www.futuremarketinsights.com/toc/rep-gb-9001
Portable Air Conditioner Market

Key Segment
On the basis of capacity range
5,000 BTU to above 20,000
On the basis of end use
residential
commercial segment
On the basis of distribution channel
wholesalers/distributors
hypermarkets/supermarkets
multi-branded stores
independent small stores
online retailers
Some of the key players of the global portable air conditioner market
include Olimpia Splendid ; Electrolux AB; LG Electronics Inc.; Midea Group; Haier Group Corporation; De'Longhi S.p.A; Honeywell International Inc.; Carrier Corporation; The Whirlpool Corporation; NewAir; Whynter; Gree Electric Appliances Inc.; Panasonic Corporation; Frigidaire; and Friedrich.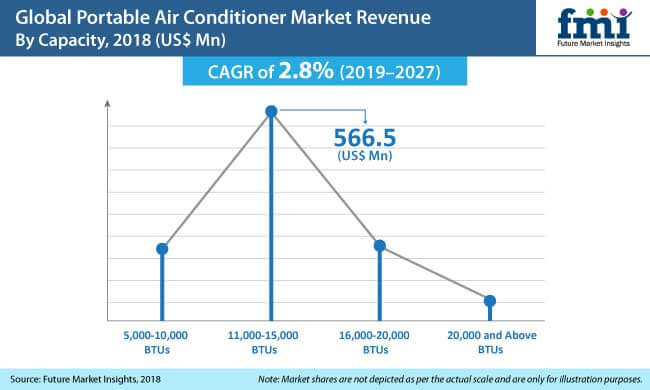 Global Portable Air Conditioner Market: Advancement in technology, coupled with increasing disposable income and rising demand for energy-efficient & environmental-friendly devices, is boosting the portable air conditioner market
The innovation of environment-friendly products is essential as the governments of most countries have introduced regulations pertaining to the conservation of the environment. Moreover, consumers are also aware of the importance of using energy-efficient products.
Ask us your Any Queries About this Report:
https://www.futuremarketinsights.com/askus/rep-gb-9001
Portable air conditioners are environment-friendly products as they consume less energy. Dual-hose and single-hose ventilation systems are primarily used in portable air conditioners. Portable air conditioners make less noise as compared to window or split air conditioning systems. Some portable air conditioners also act as dehumidifiers, which helps in cooling as well as removing excess moisture from the air, and this feature is also boosting their popularity in the market.
APEJ Strongest Consumer Base Sustaining Portable AC Sales
With a current market value share of over 40%, Asia Pacific has been providing a prime consumer base for portable air conditioner manufacturing brands. North America, the next key market for penetration of portable air conditioner, will however record a falling rate of revenue growth in the years to come. The report attributes APEJ's lead in market to the availability of a wide size range at economic price point, compact size and mobility, and consistently improving per capita spending of Asian consumers on lifestyle and convenience products. However, it also highlights that relatively higher noise production and lesser energy efficiency of portable air conditioners over conventional counterparts will remain the key pull factor forestalling their rapid demand growth.
The report has profiled some of the leading companies operating in the global portable air conditioner market landscape, including LG Electronics Inc., Panasonic Corporation, Electrolux AB, Friedrich, Haier Group Corporation, and The Whirlpool Corporation among others. As indicated by FMI's study, leading manufacturers of portable air conditioners have been maintaining strategic focus on development of innovative models that are competitive priced and have innovative functional features. Introduction of portable air conditioner-cum-dehumidifier has been a booster to portable AC sales in the market, recently. Delivering higher energy efficiency with additional features will reportedly be the key developmental strategy trending the competitive landscape of portable air conditioner market.
The post Portable Air Conditioner Manufacturers Targeting High Energy Efficiency & Functional Add-ons, Finds FMI appeared first on Industry News Analsis.